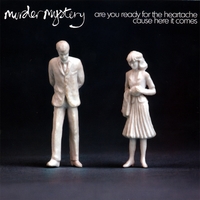 New York:
Police are still 'mystified' concerning the circumstances surrounding the murder of a fan of NY band Murder Mystery at a recent show at a local bar.
Some eye-witnesses claimed that the fan, identified as Ian
Fulashid
, was having a scuffle with a group of men wearing t-shirts of another NY band The Strokes. Eye-witnesses also claimed that the scuffle was apparently about a disagreement the group of men had with
Fulashid
concerning 'bands who have ripped off The Strokes', "I heard one of the men shouting at him (
Fulashid
) and shoving him around, while screaming that Murder Mystery sounds more Kentucky than NY chic," says Olga Hammy, who also said that
Fulashid
appeared slightly drunk from the way he walked but couldn't quite confirm if it was intoxication or the band's music that was causing him to 'yank' around that way.
Another eye-witness also said that throughout the scuffle, Murder Mystery continued to just play their brand of tasty Velvet Underground-
ish
bumpkin rock tunes to a huge enthusiastic crowd -
Reuter
(or something like that)
1. Who Doesn't Wanna Give Me Love
2. In A Sentimental Mood
3.
Love Astronaut
4. Think Of Me
5. Honey Come Home
6. Cold, Hard
Workin
' Man
7. Tell Me I'm Your Man
8. Baby, You Can Write Me A Letter
9. What My Baby Said
10.
Huggin
'
11. Sooner Or Later
12. It's All True