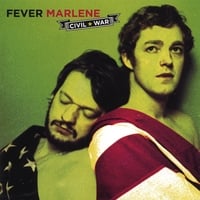 Reading the press junket accompanying this album, you would think that Fever Marlene is in fact members of the Strokes, Arcade Fire, The Smiths and The Stones Roses who got together for a jam with a revolving door of singers that include
Bono
, Michael
Stipe
, Thom Yorke and guest appearances by Jeff Buckley and John Lennon, from the dead. Why? Cause it was a gig even they wouldn't want to miss.
But alas, when you prop up a band like that, it's always going to come with a little less luster. That's not to say they are not good. They are very good in fact. Somehow successfully straddling the line between Gallagher-like retro swaggers and sharp-stabbing indie pop-ism. It's a delicate but lovely balance.
Like how I used to go around telling the neighborhood kids that my silver
BMX
may not look like much but it on occasion can transform into a death ray robot and the pedals are in actual fact photon rocket launchers. Never mind that it came with a wussy bell and a
daggy
passenger seat behind but it seriously could kill if it wanted to. Serious.
Track list:
1) Red Fire
2) All the Kites in the World
3) We are All Colors
4)
Khemitones
5) Mad Woman
6) When Daniel
Goodings
Made it Rain
7) Civil War
8) Some Saturdays
9) Fast Machine
10) Melodies in Four
11) Something's
Going to Carry Your Down
12) AM Radio