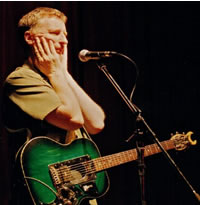 Hail ye raging old man of British folk.
From collaborating with American alt-country heroes Wilco to pushing the boundaries of British folk with his para-political rants, Bragg has been making good ol folk music for a decent 30-years now. And he really doesn't look like he's going to be stopping for tea anytime soon.
In many ways, the man's a punk legend. Just that he does it with an acoustic guitar.
But then again, that's pretty much a loose definition. It's like saying chicken is actually beef only with feathers. Or Godzilla is actually Ultraman but only with kick-ass nuclear breath. Or football is really like tennis only with bigger balls. Or Ryan Adams is actually Bryan Adams, just 100 years younger.
Billy Bragg -
Walk Away Renee
(from
Must I Paint You a Picture? The Essential Billy Bragg
)