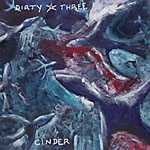 Dirty Three
Cinder
(Touch and Go)
Sigur
Ros
Ba Ba Ti Ki Di Do
(
EMI
)
Price: RM10.00 each
Sigh, its the life ain't it? When you can kick back on a weekday night, with a whole season of
Entourage
in front of ya, a bag of Cheetos on the side and with the full knowledge that you picked up two darn
blazingly
good records for RM10.00 each during the course of the day.
Never mind that the
Sigur
Ros one degenerates into a fuzz of noise and bleeps after 20 minutes or that Warren Ellis' lines occasionally slips into quasi art rock arenas but hey, you have to pay proper respect where its due.
Okay I did not pick out of a bin per
se
. I mean if I did I probably would have to shoot the store attendant in the arm, put him in a figure four and force him to cough out his address. I would go over to the house and karate chop his kids and wife before dropping a smoke bomb and disappear like how all good samurais do.
Damn, I know my Japanese folklore.
Sigur Ros -
Ba Ba
(from
Ba Ba Ti Ki Di Do
)
Dirty Three -
Flutter
(from
Cinder
)